PAINT 18 July - 29 July 1.30 - 4.30 pm or by arrangement
Karen Foss / Susi Gutierrez / Zoe Eaton / Peter Giles / Katie Lennon /Frances Ross
A celebration of the medium of paint from the viewpoint of different artists .
SOUND & VISION 10 & 11 September
A weekend event with interactive sound instillations by Peter Giles, films screeneings and performance.
SCULPTURE 12 - 24 September
Sheila Jardine / Marie Keeling / Ann Kelley / Dorrie King / Gwynne Penny / Laurent Sykes / Featuring artists who use sculpture including wire sculpture, found assemblages, soft sculpture and casting.
PAINT 18 - 29 July 2022
Open Daily, 1.30 - 4.30 pm or by appointment.
Zoe Eaton Oil paint, mediums and oil stick on canvas. These works explore abstract, improvised mark making and organic forms. I am constantly exploring colour relationship with balance of forms, striving to create interest and harmony. The works are made in stages, not knowing how the finished piece will work.
Karen Foss - I have always made work in the field of non objective abstract art and work from my studio in the heart of Penzance. The paintings here were a logical follow on from work arising during the lockdown. While reading the poetry of Leonard Cohen I was reminded of a phrase - " there's a crack in everything, that's how the light gets in." I was already making a series of works involving painting a rectangle on various colourfields and I started thinking to slash a few canvases following the outlines of these rectangles to create openings perhaps to reveal hidden light, to escape or to be a vehicle for the imagination. This small group of paintings are some of the results.
Peter Giles: A Series of line paintings on gesso primed MDF boards, with household emulsion tester pots. Known more for his abstract drawings on paper, for this exhibiiton we present a mini series of paintins. The work explores the relationship between line and colour, time and space, purity and thought.
Susi Guteirrez Although I trained as a painter and printmaker in the UK, in my heart I am still an archaeologist and a writer and I believe that this is what gives me the avidity I need most days when I am in my studio. Recently, particularly during the long lockdowns I have enjoyed using found objects that leave a mark and also some banal words from bad films and magazine ads. For my photo-etchings I have used photographs from family albums that I partially drew and I have been printing them again but combined with mono-printing methods using random images from magazines and newspapers that call my attention or that "fit" with the composition. For my recent and more "natural" and sustainable mono prints I use leaves, card board, paper with texture and anything that could be flattened before it is inked and printed with my small press. The process for my paintings is different and harder but very exciting too as it depends on my mood and circumstances. In order to provoke the feeling that triggers the avidity to start painting I need to create textures and to see images I have been collecting which are everywhere in boxes waiting in my studio. However sometimes I do not need to see anything as my hands do the work alone. It can be a very instinctive or more thoughtful process. Instagram @susigutierrez4208
Katie Lennon Earlier this year I underwent a stem cell transplant to treat the cancer Ihave been living with for over two years. The treatment and recovery have been tough, harrowing at times, and I felt a need to produce something positive and life-affirming from the experience. The paintings are a response to the hyper-surreal nature of the situation I found myself in - eye-wateringly bright, and garish at times, they are intended to be joyful and upbeat to counteract the gravity of the circumstances they are inspired by. Following on from my Covid tile project last year – an installation of over two hundred cell-shaped paintings in response to the global pandemic and my cancer diagnosis – I have continued with the cell theme, which became even more relevant with the stem cell treatment I received. Inspiration for my work comes from many different sources - natural and biological forms, pattern, fabric and surface design, colour theory, mark making. The potential for creativity feels infinite and the need to create INSTAGRAM
Frances Ross - Colour is the main focus of my paintings which are inspired by choreography, music and poetry. They are non objective and explore different combinations of colour to create an enigmatic and rhythmical presence. I hope to make the observer feel something rather than to curate a reaction. I aim to create joyful paintings sometimes underpinned with an element of discord. I work on a series of paintings at a time over several months in a process of call and response: adding, removing and editing. The final composition comes towards the end of the painting. My fascination is primarily with how we see colour differently according to its relation to another. Website : [email protected]
PRINT 23 May - 4 June 2022
GRAHAM DILLEY - Graham creates ink drawings, vivid watercolour and printmaking in his practice. Graham creaetes Dry point etchings, which are then hand coloured with watercolour paints. -
DORRIE KING - I am involved in exploring and extending letterpress. Instead of using traditional type I have made my own wooden blocks (type height) by slicing up family heirlooms - a bashed up Georgian chair, a woodworm-ridden hickory lacrosse stick, a barley twist chair leg, and other found wooden pieces which have a personal significance.
GRAHAM PULLEN - "My background in screen printing dates back to the 1970s when I first worked for a screen printer and then lecturer at the London College of Printing. However, the chemicals used at the time were highly toxic and damaging, so I decided instead to move on to another career. But I never lost my love of printing, and the development of water-based inks was enough to entice me back to the printmaker fold. I find the flexible nature of screen printing entirely engrossing: whilst you can control and be very precise about the images you produce, the process also allows you to be highly experimental with media and colour.
ERIN LACY: Founder of 'Pick Pretty Paints' Erins print studio is based in the Sloop Craft Markets in St Ives. Erin creates lino cut, and screen prints using her own hand made printing inks. For this exhibition Erin is showing intimate colleograph prints inspired by natural forms.
ZOE EATON: Zoes usual medium is paint on canvas, exploring abstract, improvised mark making and organic forms. Mono printing is a method which allows her to showcase her love of colour and organic mark making. Her piece 'Print Run' comprises multiple A5 prints , created from a combination of monoprints with tradiitonal printing inks on glass plates, and 'Gelli' prints, - combining hand cut stencils and found objects, with acrylic paints.
PETER GILES: Peter is best known for his abstract drawings that weave a world of delicate intricate beauty, although he works and experiments with many different mediums, it is a delight to include some of his Sennellier Ink & Rubber prints.
PAPER 4 - 18 April 2022
A mixed show featuring works on Paper.
Graham Dilley - Graham creates ink drawings, vivid watercolour and printmaking in his practice. Daily life in St Ives (where he lives) and the gardens and coasts of Cornwall strongly influence his work. F
Peter Giles - Creates abstract drawings, built up from small lines, marks and dots. He uses fine liner pens, marker pes and inks - resulting in delicate patters of beauty.
Ann Kelley Writer, photographer and artist, creates intimate mixed media and collage pieces - inspired by her immersion in the images ingrained from living by the sea. The harbour boats, the pier, the tides, blue sky, cafe colours, and bunting.
Peter Ward is the one of the region's primary advocate of painting with earth pigments, his research and knowledge inspiring people of all ages, interests and abilities nationally and internationally. Since 2008, he has exclusively used pigments gathered and processed by hand in Southwest UK. Peter's artwork and painting expresses a deep connection with and understanding of materials and place based on personal experience and interdisciplinary research.
LAUREN SEBASTIAN : THRESHOLD / 18 - 23 October 2021
A special exhibition of intuitive artworks by Lauren Sebastian, that reflect on the difficult birth of only daughter Stormy (now aged four), There were several thresholds encountered during the first ten days of Stormy's life: labour and birth, night to day, the brink of parenthood, betwixt life and death, not knowing and knowing, held breath and such prayerful longing.
"BINOCULARS II. A SECOND LOOK".
5 - 18 June - Susi Gutierrez & Graham Pullen / Binoculars II is a presentation of works by Susi Gutierrez and Graham Pullen at Barnoon Workshop Gallery. They are a combination of prints, and paintings , using a variety of techniques including screenprinting, etching, dry point, collage and mixed media. They recall the artists personal experiences, that stroll between home and the rural South West roads and footpaths. The result is a range of experimental materials with a meditative quality.
20/20 VISION - Ann Kelley
14-28 Dec 2020
Life during Covid 19 pandemic has given novelist, poet, photographer and now painter Ann Kelley the time to observe and record the St Ives seaside garden where she is shielding., peopled with its colourful flowers, wildlife, birds, insects and cats. Joy shines through the gloom of this strange year.
HAND HELD VIEW / October 2017
A curated group exhibition of small works , that can fit in the palm of your hand. As society increasingly views our life experience, through the digital world on a smart phone or tablet, this exhibition considers art works that can be viewed in the same way. Included is work by
Amber Agha / Sally Carver / Jane Callan / Zoe Eaton / Karen Foss / Tony Eastman/ Sue Hopper / Marina Iodice / Sharon James /Jordan Laurence Jackson / Marie Keeling / Ann Kelley / Erin Lacy / Graham Lister /Emily Lucrezia-Buffa / Josh Philpott / Klaus Pinter / Julie Pownall / Iona Pioaru / Andrea Robinson / Tobes Rainbird / Lauren Sebastian / Tamsin Spargo / Freya Stinton / Noelle Thomas/ Stella Tripp/ Sophie Walker/ Bobby Wotnot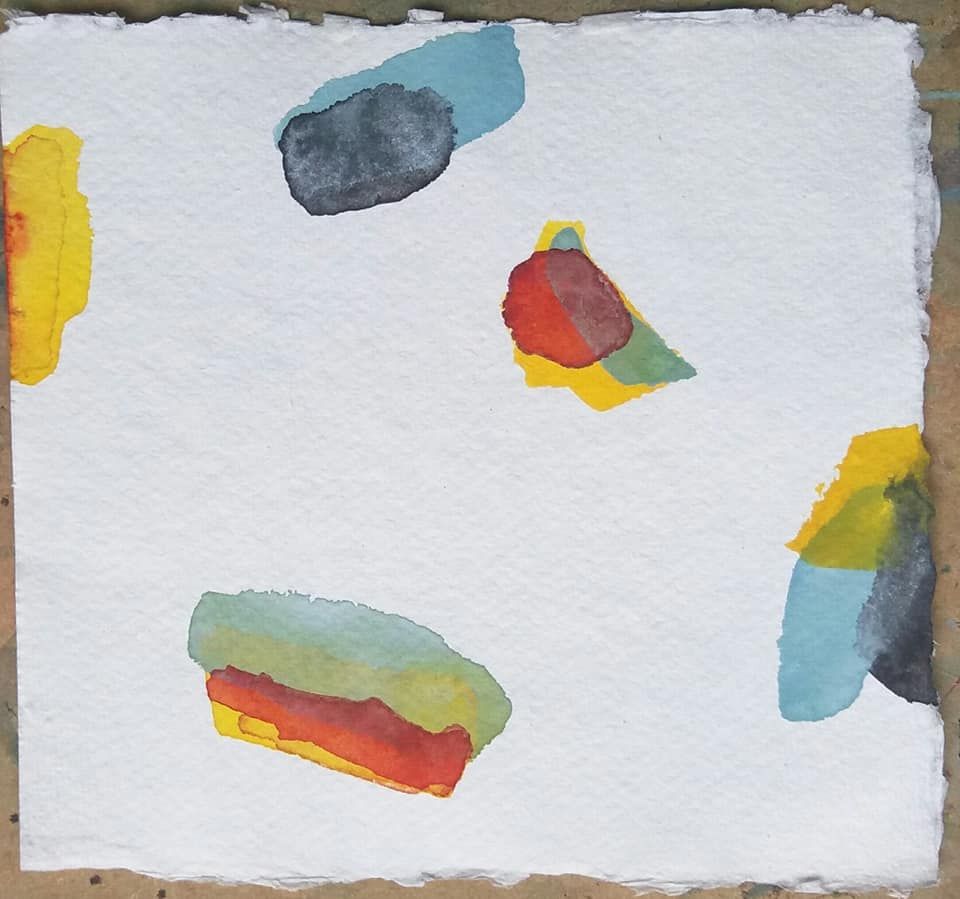 WALL STORY - Zoe Eaton / 29 June - 13 July 2019
An exhibition of paintings by Zoe Eaton. 'Wall Story' started in India, January 2019. Zoe participated in a 5 week artist residency, along with 26 other artists from around the world - for the Gujarat Global Art Festival.
During this visit, Zoe was inspired by the beautiful vibrant walls and buildings she saw in India - including roadside walls with Grafitti, religious and political statements - - to buildings adorned with artworks, murals and traditional Gujariti designs. The experience in Gujarat provides inspiration for new works made for this exhibition.