PAIR / ZOE EATON & PETER GILES
21 - 27 October 2023 / The Crypt Gallery, St Ives Society Of Artists,
Peter Giles and Zoe Eaton show work in this historic space, downstairs in the Crypt of The Mariners Gallery.
Zoe's paintings explore aesthetic balance and tension between improvised loose, free marks and composition. An uplifting colour palette adds to a sense of joy.
Peter Giles creates delicate and intricate line drawings primarily on paper using a range of contemporary marker pens and fine liners. Also from time to time working with gouche, gel pens and 'real' ink with a variety of dipping pens, glass, bamboo and old school nibs.
there are a number of free activities during the exhibition ,including an open party, a communal art piece, artists talk and ambien DJ Set
EXHIBITION: SMALL WORLD
Zoe Eaton and Peter Giles
9 - 23 SEPTEMBER 2023
Barnoon Arts, Westcotts Quay, St Ives TR26 2DY
Enter the abstract world of Zoe Eaton and Peter Giles, in one of St Ives smallest and quirkiest gallery spaces! During the St Ives Festival we have a show of original one off paintings and drawings alongside work on badges, Tote Bags, keyrings, fridge magnets, greeting cards, canvas and paper, and other found objects. .
SCULPTURE ! 12 - 24 SEPTEMBER 2022 . Barnoon Workshop, Clodgy View St Ives
Zoe Eaton / Jules Eaves / Peter Giles / Sheila Jardine / Marie Keeling /Ann Kelley / Dorrie King / Gwynne Penny / Laurent Sykes
PAPER 4 - 18 April 2022
A mixed show featuring works on Paper.
Graham Dilley - Graham creates ink drawings, vivid watercolour and printmaking in his practice. Daily life in St Ives (where he lives) and the gardens and coasts of Cornwall strongly influence his work. F
Peter Giles - Creates abstract drawings, built up from small lines, marks and dots. He uses fine liner pens, marker pes and inks - resulting in delicate patters of beauty.
Ann Kelley Writer, photographer and artist, creates intimate mixed media and collage pieces - inspired by her immersion in the images ingrained from living by the sea. The harbour boats, the pier, the tides, blue sky, cafe colours, and bunting.
Peter Ward is the one of the region's primary advocate of painting with earth pigments, his research and knowledge inspiring people of all ages, interests and abilities nationally and internationally. Since 2008, he has exclusively used pigments gathered and processed by hand in Southwest UK. Peter's artwork and painting expresses a deep connection with and understanding of materials and place based on personal experience and interdisciplinary research.
20/20 VISION - Ann Kelley
14-28 Dec 2020
Life during Covid 19 pandemic has given novelist, poet, photographer and now painter Ann Kelley the time to observe and record the St Ives seaside garden where she is shielding., peopled with its colourful flowers, wildlife, birds, insects and cats. Joy shines through the gloom of this strange year.
HAND HELD VIEW / October 2017
A curated group exhibition of small works , that can fit in the palm of your hand. As society increasingly views our life experience, through the digital world on a smart phone or tablet, this exhibition considers art works that can be viewed in the same way. Included is work by
Amber Agha / Sally Carver / Jane Callan / Zoe Eaton / Karen Foss / Tony Eastman/ Sue Hopper / Marina Iodice / Sharon James /Jordan Laurence Jackson / Marie Keeling / Ann Kelley / Erin Lacy / Graham Lister /Emily Lucrezia-Buffa / Josh Philpott / Klaus Pinter / Julie Pownall / Iona Pioaru / Andrea Robinson / Tobes Rainbird / Lauren Sebastian / Tamsin Spargo / Freya Stinton / Noelle Thomas/ Stella Tripp/ Sophie Walker/ Bobby Wotnot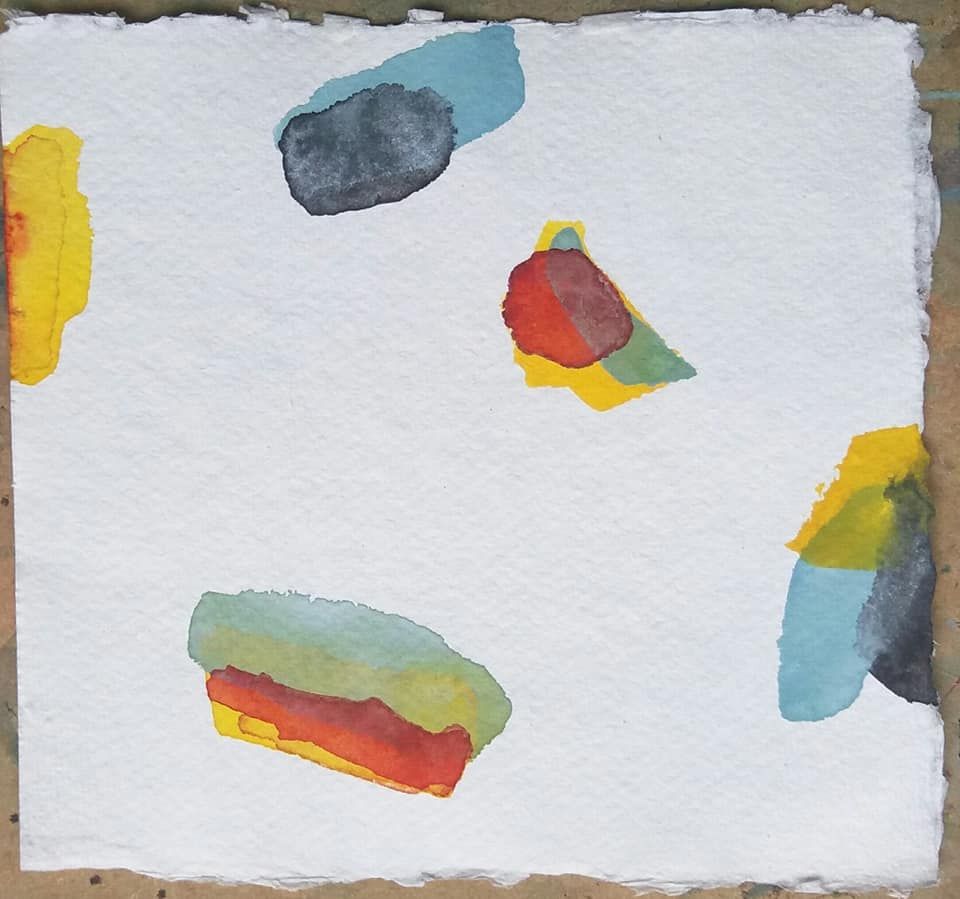 WALL STORY - Zoe Eaton / 29 June - 13 July 2019
An exhibition of paintings by Zoe Eaton. 'Wall Story' started in India, January 2019. Zoe participated in a 5 week artist residency, along with 26 other artists from around the world - for the Gujarat Global Art Festival.
During this visit, Zoe was inspired by the beautiful vibrant walls and buildings she saw in India - including roadside walls with Grafitti, religious and political statements - - to buildings adorned with artworks, murals and traditional Gujariti designs. The experience in Gujarat provides inspiration for new works made for this exhibition.