Workshops, Classes & Events
We offer scheduled art classes, as well as private sessions and occassional involvement in community art projects. For booking and contact details see below.
HOW TO BOOK AN EVENT
EMAIL: [email protected]
ONLINE Some events can be booked online via EVENTBRITE (see event description)
IN PERSON - Barnoon Arts, Westcotts Quay, St Ives TR26 2DY
TELEPHONE: Call or message 0790 0095203
SCHOOL VISITS & LARGE GROUPS - Please email us for enquiries.
Thursdays & Saturdays 10.30 - 12.00
£10 per person
Suitable For Adults and Children of all Ages, for complete beginners and above
This event is outside, dress for the weather
Get to see St Ives in a different light! Join us for a fun and informal outdoor sketching session with Tutor Pete Giles, and leave with several sketches of beautiful St.Ives. There is help on hand with tips and techniques on capturing what you see - So whether you are a complete beginner to drawing - or have more experience - these sessions are for you! With a variety of guided exercises, using pen and graphite. No need to bring anything, as we provide use of all materials ,
Booking advised - free to reserve your place on Eventbrite, payment can be made on the day.
Tuesdays (10.30 - 12.30)
£20 per person, including materials (under 5's free)
Suitable for adults and accompanied children
Outdoors
Paint beautiful St Ives using watercolours - A stand alone, informal, outdoor watercolour class with Zoe Eaton. Suitable for all ages, from complete beginnners and above, . We choose a different spot at each session, within a short walk , and make several paintings based on the theme and techniques of the day. This could be landscapes, street scenes, seascapes, boats and harbour views, beach scenes or gardens and plants. There's plenty of help and advice at each step of the way and all materials are included. Leave with several watercolour paintings on a range of quality watercolour paper sizes.
The event is entirely outdoors, in very bad weather, we may have to cancel this event. Advanced booking recommended to secure your place. Message us to save your space, or Tickets available from link below
£20 per person (children aged 5 and under free)
Fridays 10.30 - 12.30 - (or 2 - 4pm selected dates) in August and September)
Suitable for all ages and abilities including complete beginners
Drawing in a sketchbook allows you to experiment with different styles and drawing media, whilst keeping all your drawings in one place. and create a keepsake of your morning. Ideal for all the family, from complete beginners and above.
We take a short walk, making stops to capture different views of this beautiful town , depending on the season and weather. Our experienced tutors are on hand with a range of guided drawing exercises and techniques to get you started. Explore a variety of mixed media drawing materials which might include graphite, inks, collage, pastels and colour pencils., depending on the themes of the session. This event is entirely outdoors, so dress for the weather (in very bad weather, we may have to cancel this event). All Materials provided including an A5 or A4 soft back sketchbook to fill and keep. Meet at 10.15 for a 10.30 start.
Booking recommended to ensure your place. Its free to reserve, and payment can be made on the day Eventbright HERE
£12 per person *
10.00 - 12.00 Mondays, Term times
Autum Dates: From September 25th 2023
Suitable for all ages and abilities including complete beginners
VENUE Indoors at St Ives Arts Club (upstairs in the theatre room)
Learn to draw, or develop and build on your drawing skills in The Open Drawing Class. These stand alone classes are designed so that you can drop in to just one session, or come along every week . A social and creative way to start your week!
At each session we introduce a different subject (anything from botanics and still life to portraits). With guided exercises, and a focus on techniques of the chosen media , (from the humble pencil to graphite, inks, pencils, pastels, collage and more). We incorporate key drawing knowledge and skills each week, for example developing line, tone and composition and occassionally look to other artists and artistic movements for inspiration. Tutors Zoe Eaton, Pete Giles and occassional guest tutors. You will also have the opportunity to share your work and ideas with other participants in a supportive and friendly environment.
These indoor art sessions are currently held in the upstairs theatre room in The St Ives Arts Club, Westcotts Quay, St Ives. Advance booking is advised, and payment can be made on the day (£1 discount for arts club members). See top of page for ways to book.
Puppet Making & Performance Workshop for Kids
Puppetry Workshop: Sea Adventures - Unleash Your Child's Creativity! We're excited to introduce a fantastic puppetry workshop for your little ones, inspired by the enchanting sea world. This is led by Ms Rebecca, a fully qualified Primary school teacher, will full DBS. The workshops have been designed so that children can attend all three sessions or just one. Held upstairs in the historic St Ives Arts Club, over looking St Ives Harbour. Here's what your child will experience:
Crafting Characters and set: Your child will embark on a creative journey to craft their very own sea-themed puppet characters and set using various materials and techniques.
Storytelling and performance: Imagination takes the helm as your child dives into storytelling. Guided by their unique puppet characters and the mysteries of the sea, they'll collaborate with peers to craft engaging narratives. They'll then rehearse and perform their sea tales, showcasing new found puppetry and performance skills.
Take the Magic Home: After this exciting adventure, your child will proudly take home their crafted puppet, along with a toolkit. This toolkit holds the secrets to further puppetry adventures, fostering ongoing creativity and skill development.
So that your child can benefit fully, this has been designed for a small group so spaces are limited.
To book tickets please visit EVENTBRITE / For more information email [email protected]
INDOOR STUDIO SESSIONS (availability from October 2023)
Approx 2 and a hour session, 10 am or 2 pm
Flat Rate Fee including materials / £150 for 1 - 2 people indoors - or larger groups outdoors.
Spend an afternoon in our beautiful studio, with views directly overlooking St Ives Bay. Choose your subject, (from the options below) and enjoy a private bespoke session with tuition and materials included. We can fit up to three people in the studio, denpending on the subject. Whether you are a complete beginner or more experienced, we can tailor the session to your individual interests and needs.
The price is a flat rate fee for your party - so you pay the same price for one person, or share the fee between up to three people (depending on subject).
FOR LARGER GROUPS (Over three people)
Three hour session - suitable for drawing, watercolours, acrylic painting on a canvas
Flat rate fee of £250 inc materials of up to 8 people, plus addition £10 for each extra person
TO BOOK: See details at top of page.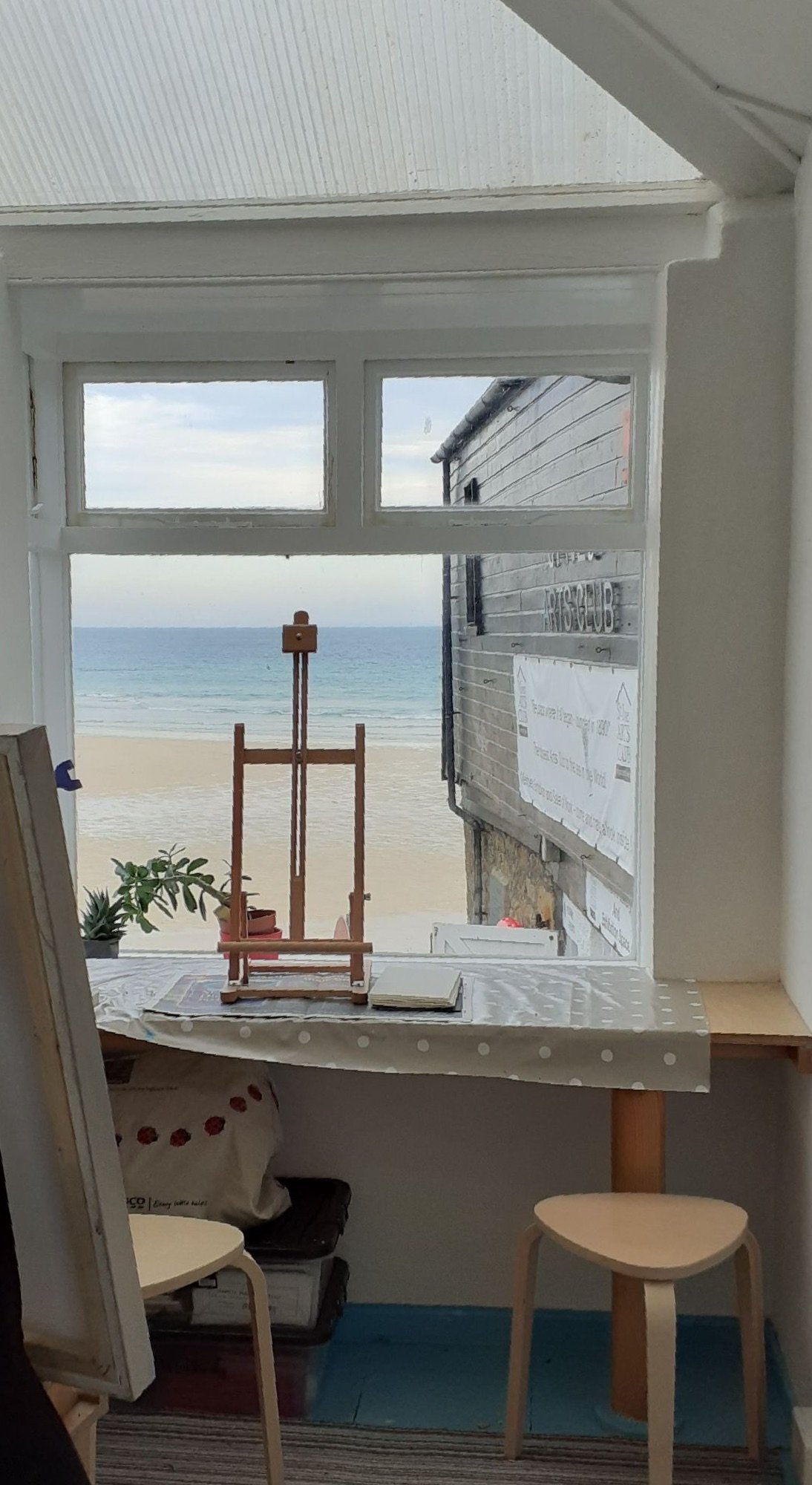 SUBJECTS AVAILABLE FOR PRIVATE GROUPS
WATERCOLOUR SESSION / Zoe Eaton Gain tips and approaches in using watercolours to capture the beauty of this lovely medium. Choose your studio subject from: local beach finds (seaweed species, shells) Botanics, landscape or abstract. Gain techniques into mixing a wash, mark making, brush techniques, mixing a colour wheel and more depending on your interests.
LANDSCAPE IN ACRYLIC PAINTS / Create your impression of the beautiful scenery on our doorstep - using acylic paint on canvas. Theres step by step help and advice. In good weather we go outside to make initial photos/ and sketches, then proceed to the studio to finish the final painting. Gain help with composition, colour mixing, effective use of the paint and brush work, creating an underpainting, and finishing your piece.
ABSTRACT DRAWING with Peter Giles Delve into the world of patterns and abstraction, with artist Peter Giles. Suitable for all levels of drawing ability, from complete beginners, to those who wish to find a different way to draw and discover a new language. During the session we will be using a combination of exploration, exercises and discussion, and finish with a final piece on larger paper. First we will explore shapes and lines, as a basis for building pattern - then Introduce colour with coloured pencils, markers pens and more.