We currently run creative events all year, in a range of art and craft subjects. All our courses include materials, and are taught in a relaxed and informal style by creative professionals. We run outdoor art sessions all year, weather permitting, for all ages and abilities. Choose from OUTDOOR ART CLASSES (Watercolours or Drawing), or INDOOR STUDIO TIME at Barnoon Workshop,
HOW TO BOOK
TELEPHONE: Call or message 0790 0095203
EMAIL: [email protected]
ONLINE Some events can be booked online (see event description)
IN PERSON - Barnoon Arts, Unit 6, Harbour Galleries, The Wharf, St.Ives TR26 1LF
SCHOOL VISITS & LARGE GROUPS - Please email us for enquiries.
Outdoor art classes are Suitable for adults and accompanied children of all ages
Choose From Draw St Ives, Watercolour or Mixed Media Sketchbook (see below)
Meet at HARBOUR GALLERIES, WHARF ROAD, ST IVES, TR26 ILF
PRIVATE PARTY BOOKINGS TAKEN AT OTHER TIMES - For Larger Groups, School groups, and private parties. Please enquire.
Spend a lovely couple of hours, on one of our fun and informal drawing and painting sessions., all outdoors in stunning St.Ives. Each session is a stand alone class, ideal for all ages and abilities - from complete beginners and above. In small groups, with plenty of individual help and advice on hand with the tutor.
What We Provide : We can loan all the materials you need including Drawing board, paper and drawing equiptment / use of paints/ brushes and palatte, What You Need To Bring: Dress for the weather - with appropriate sun or rain protetction, as the whole session is outdoors. In very bad weather we may have to cancel.
WINTER HOURS Thursday and Saturday / 10.30 - 12.00
£10 per person
Private bookings at other times (£100 up to 10 people )
Meet at our Gallery Space, in The Harbour Galleries, Wharf Road, St Ives TR26 1LF.
Get to see St.Ives in a different light! Join us for a fun and informal sketching session outdoors, with Tutor Pete Giles and leave with several sketches of beautiful St.Ives. There is help on hand with tips and techniques on capturing what you see - So whether you are a complete beginner to drawing - or have more experience - these sessions are for you! No need to bring anything as we provide use of all materials , Booking required, free to reserve your place, payment can be made on the day. ONLINE EVENTBRIGHT BOOKING HERE
Mondays and Fridays / 10.30 - 12.15 / From March 2022
£15 per person (for private parties at other times please enquire)
A stand alone, informal, outdoor watercolour class with Zoe Eaton. Suitable for all ages, from complete beginnners and above, and accompanied children. We choose a different spot at each session, within a short walk from the Harbour Galleries, and make several paintings based on the theme and techniques of the session. Leave with several watercolour studies. Meet at our gallery space at The Harbour Galleries, Wharf Road, TR26 1LF. To book your space message us, and payment can be made on the day.
Mixed Media Sketchbook Tour
£20 per person
10.00 - 12.30
From Wed 13 April, then every Wednesday
Join us on a short walk around St Ives, capturing different views of this beautiful town, with either Zoe Eaton or Peter Giles. Depending on the weather and season, we take a different route, making stops along the way to sketch. Explore a variety of drawing exercises and techniques to help capture what you see, whilst gaining tips for using mixed media materials . Suitable for all ages and abilities including complete beginners. Materials provided including an A4 sketchbook
TO BOOK free to reserve at Eventbright HERE (payment can be made on the day by cash or card).
STUDIO WORKSHOPS & EVENTS
The following classes are all held at our lovely indoor studio space - situated at Barnoon Workshop, Clodgy View, St.Ives, TR26 1JG. See bottom of page for directions. Some subjects are booked for familly groups or social bubles, choose your date and subject for a workshop for just you or your group. See Calendar For large groups/school groups please enquire.
ABSTRACT DRAWING WITH PETER GILES
£25
Wed 16 Feb 2022, 2 - 4.30 pm
Wed 4 April / 2 - 4.30 pm
Delve into the world of patterns and abstraction, with artist Peter Giles. Discover techniques using a combination of exploration, exercises and discussion, and finish with a final piece on heavyweight paper. First we will explore shapes and lines, as a basis for building pattern - then Introduce colour with coloured pencils, markers pens, compressed charcoal etc
Suitable for all levels of drawing ability, from complete beginners, to those who wish to find a different way to draw and discover a new language and enjoy the beneficial experience of mindful drawing practices. To Book email [email protected]
Studio Watercolour Painting
2 hour workshop / £20
Mon 14 Feb / Shells and seaweeed
Monday 21 Feb
Thurs 7 April / spring Plants
Learn how to make the most of these beautiful transparent paints with tutor Zoe Eaton. Help at each step of the way, this is an indoor studio workshop with a different topic at each session. Leave with your finished paintings on quality watercolour papers. All materials are included. To book see top of page
Tuesday 15 Feb 2022 / 2 - 4.30 pm
£30 per person
(Private party booking price , max 6 people £120)
Learn how to cast Crystal Resin into small items such as bottle tops, moulds and shells - to create key rings, charms, pendants, fridge magnets and brooches. Discover what you can add, how to increase drying time, and avoid common pitfalls. You will have the opportunity to make several pieces, with all materials included ( feel free to bring your own small items such as broken jewellery or keepsakes to include). To book this event, please message us or see website details. To book see top of page
St Ives Abstract Painting
2 hour workshop / £25 per person
Wed 23 February 10.30 - 12.30
Take inspiration from some of the great St.Ives modernist abstract painters. including Terry Frost, Patrick Heron and Wilhemina Barnes-Graham, and create your own abstract piece. Start with a paper collage to design your colours, shapes and composition, before painting. Leave with an acrylic painting on an choice of size canvas . There is help at each step of the way, with painting techniques, colour mixing and more, with artist Zoe Eaton. The workshop is suitable for all ages and levels of ability, including complete beginners. Price includes all materials. See top of page for booking details.
2 hour workshop / £20 per person
Suitable for adults and children of all ages
Tue 12 April, 2 - 4 pm
Learn how to make beautiful hand made paper, that is ideal for drawing projects, labels and gifts. During the session you will learn how to prepare recycled papers, use a deckle and mold, press and size the papers and embellish with dried flowers and plants, and emboss with stamps and plants. Great fun for all ages and abilities. To book see top of page
2 hour workshop / £25 per person
Bookings from March 2022
(Private party rate / £120 max 7 people - choose date)
Learn how to make a vairety of lovely natural soaps, that are animal product free, and without any nasty chemicals - using easy to obtain ingredients that you can find at home. Discover how to add natural scent, decoration and texture, and beneficial skin properties.
We will be using vegetable 'melt and pour' soap base and adding a whole range of lovely extra ingredients for beneficial skin properties, scent, texture and decoration - including herbs, and essential oils. Experiment with different combinations and create your own recipes. Leave with several bars of quality, handmade soaps.
To book see top of page.
Paint A Seascape / Landscape
2 & 1/2 hour workshop / £25 per person
Suitable for adults & children of all ages
Dates TBA
Paint a beautiful seascape with acrylic paints on canvas . Create your impression of the magnificent scenery overlooking Porthmeor Beach - capturing the fleeting light, colours and textures of the sea, sand and sky. Starting with initial outdoor sketches and photos we then return to the studio to create the painting., or in good weather work outside. Leave the session with an acrylic painting on a canvas . There is help at each step of the way, with painting techniques, colour mixing and more, with tutor Zoe Eaton.. Price includes all materials To book, see top of page.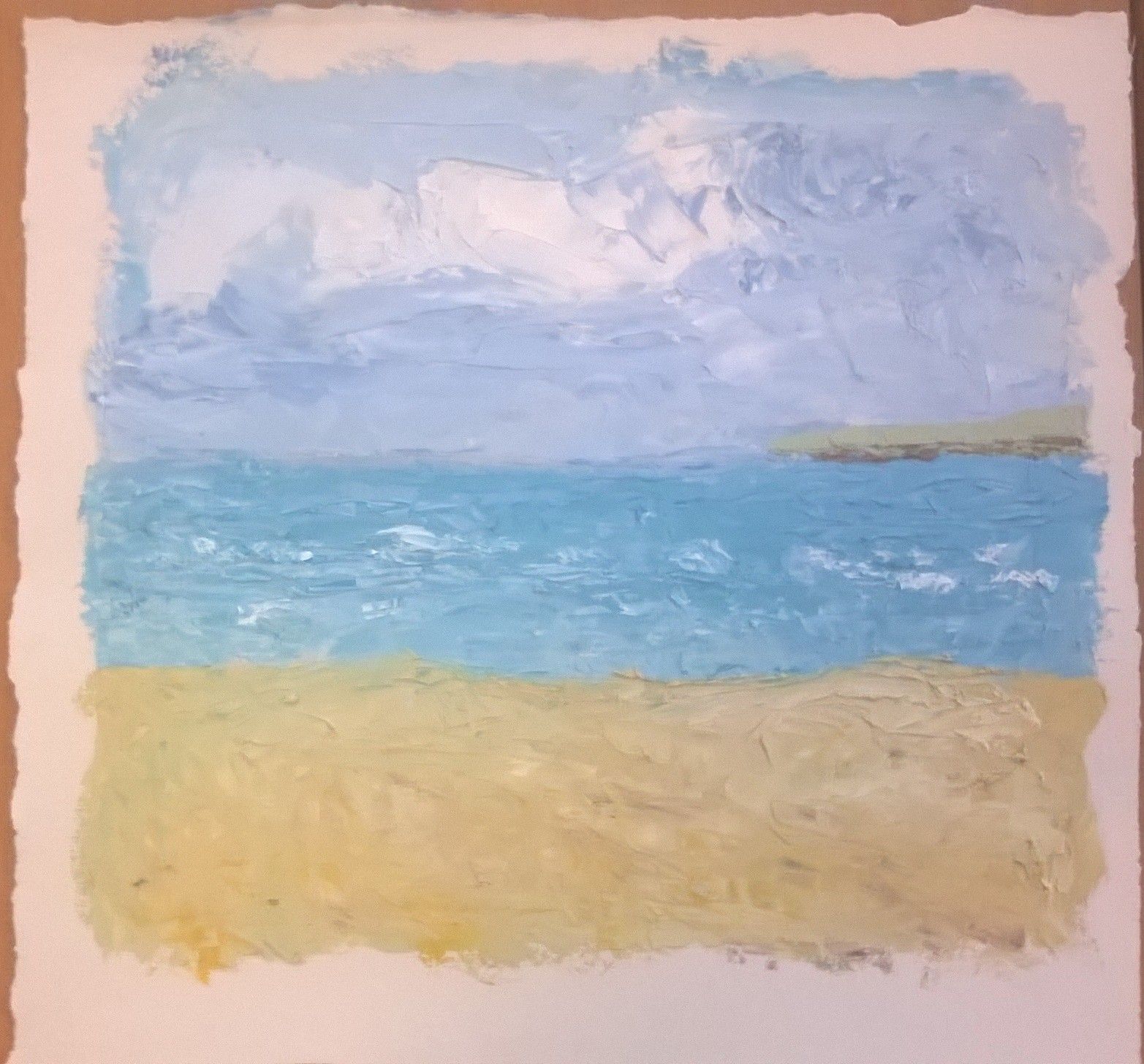 2 hour workshop / £20 per person
Private Party bookings / £100 max 7 people
Suitable for Adults and children of all ages.
Bookings from March 2022
A lovely way to work with pretty beach finds such as pebbles, driftwood, crockery, shells and sea glass. Transform them into unique art pieces. In the studio we have all the tools, materials and finishings you need for your group to make their choice of objects: You can make a beach find mosaic coaster or tile, wall hangings, key rings...... We provide the beach finds too, but feel free to bring along your own beach treasures to add the personal touch. Contact us to book your slot for your group.
Oil Painting Taster Session
2 and half hour workshop / £30 per person
Private Party Booking/ £120 for up to 6 people, .
Suitable for adults and children aged 12 and above
Discover painting with this beautiful and versatile medium with artist Zoe Eaton. Suitable for beginners, or experienced artists who want to develop the use of oil paints. We start with guided exercises, mark making and colour mixing to explore the basic techniques and painting mediums, impasto painting, brush work, and palette knife painting. Then move onto a Wet-on-wet, or 'alla prima' (Italian, meaning at first attempt), direct painting on canvas. Choose your choice of subject from: still life, St.Ives Abstract or the local landscape/seascape.